China's display industry is working on improving its "quantum dot (QD) display" technology. During an international conference that was recently held, BOE introduced a prototype of QD display and officially entered the market. As a result, it has emerged as a new competitor for Samsung Display that is devoting all of its time into QD display development in order to mass-produce the display next year.
According to the industry on Monday, BOE introduced a prototype of 13-inch QD display during "SID 2020" that was recently held online.
"Chinese display panel manufacturers are making various attempts in order to secure differentiated technologies." said a representative for the industry. "This is the first time a Chinese QD display was exposed to the public."
QD display expresses various colors even more accurately by converging an organic material OLED and an inorganic material QD. QD display has blue OLED materials deposited and red and green QDs inkjet printed in a photic layer. Samsung Display, which started working on QD display earlier than BOE, introduced its prototype to few customers at its private booth that was set up during CES 2019.
Brightness of BOE's QD display prototype is only 120nit. It is heard that QD and OLED can currently provide brightness up to 2,000nit and 700nit respectively. It seems that BOE has not worked on brightness yet considering that its QD display is only a prototype.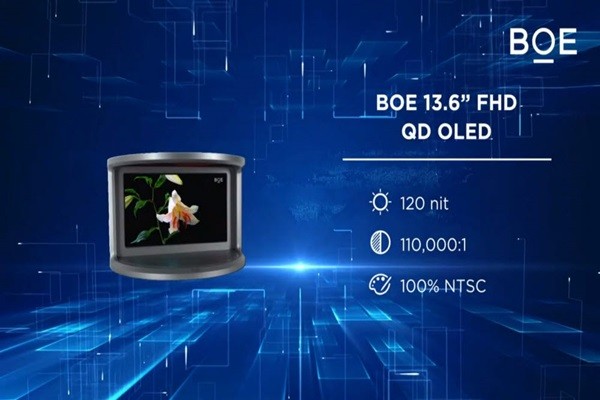 However, its prototype has a contrast ratio of 110,000 to 1 and 100% color gamut based on NTSC (National Television Standards Committee). LCD TV that shows colors indirectly by using color filters only has 70% color gamut. While the South Korean display industry believes that it will take some time before BOE is able to commercialize QD display, it is not loosening its guard on the Chinese display industry.
Samsung Display plans to invest $11.0 billion (13.1 trillion KRW) in the Q1 line until 2025. The Q1 line will go into operation next year and have a monthly capacity of 30,000 substrates.
BOE also introduced OLED panel with 8K resolution based on 55-inch inkjet printing method. Considering the fact that BOE has secured inkjet printing technology that is one of key processes, it will look to speed up the process of developing QD display. In the end, South Korean display panel manufacturers will have to compete against Chinese display panel manufacturers within the global QD display market just like they have been competing within the global LCD and OLED markets.
"Chinese display panel manufacturers that have been pressuring South Korean manufacturers with larger supplies are now displaying their advanced technologies such as QD display and inkjet printing." said a different representative from the industry. "It is urgent for South Korean companies to implement a "super-gap" strategy in order to maintain their dominance within the global display market."
Staff Reporter Yun, Heeseok | pioneer@etnews.com
<Source:Etnews>