Samsung SDI, Duksan Neolux, and Doosan Solus are set to supply their materials to Samsung Display for its next-generation OLED panel. It has been confirmed that Samsung Display chose products from these companies as part of "M11" that is a set of new OLED materials.
Samsung Display is planning to manufacture new OLED panel with "M11" and supply the new panel to Samsung Electronics and Apple for their respective Galaxy smartphones and iPhones that will be launched in 2021. The industry's interest is on the selection of companies that are part of M11 as the selection is directly related to a growth.
According to the display industry and a market research company called Stone Partners on Wednesday, Samsung Display finalized companies that will part of the "M11".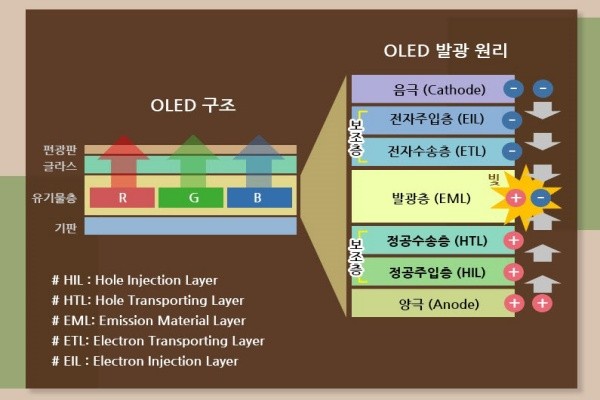 It has been confirmed that Samsung SDI, Duksan Neolux, and Doosan Solus are part of the set. Specifically, Samsung SDI will supply green host material while Duksan Neolux and Doosan Solus will supply red and green prime and A-ETL (Electron Transporting Layer) respectively. Duksan Neolux will also supply HTL (Hole Transporting Layer) in addition to red and green prime.
OLED display shows images through luminous materials that emit light on their own. It is largely divided into a luminous layer and supplemental layers. Performance and lifespan of OLED panel is determined by a combination of each material. Host and dopant are materials that actually emit light within luminous layer while prime helps raise luminous efficiency of dopant and host materials. HTL and A-ETL are supplemental layers that help with luminescence.
The reason why the M11 set is drawing so much attention is because it has a deep relationship with Samsung Display's next strategic products. Samsung Display is planning to manufacture new OLED panel starting from the end of this year using the M11 set. This panel will be used for Samsung Electronics' next flagship smartphone "Galaxy S21 (tentative name)". The Galaxy S series are Samsung Electronics' strategic smartphones and 30 million units are sold annually. Because they also represent Samsung Electronics' smartphone business, high-performance and expensive materials and components are typically used. As a result, being part of the M11 set is an opportunity for growth.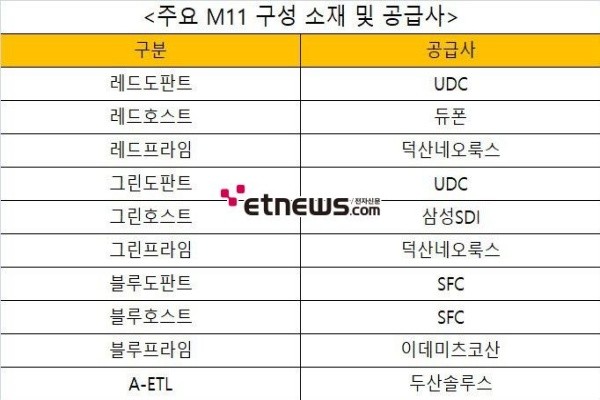 The set will also be used for Apple's new iPhone that is scheduled to be released in 2021. Although Apple had been using a different OLED panel that is made up of different materials compared to the one that used by Samsung, it has been using same materials as Samsung Electronics since iPhone 11 that was released last year. iPhone 11 is based on the M9 set that was also used for Galaxy S10 and Note 10. iPhone 12 (tentative name) that is scheduled to be released this fall will be based on the M10 set that is also used for Galaxy S20.
In addition to being part of the M10 set last year, Samsung SDI, Duksan Neolux, and Doosan Solus will also be part of the M11 set. It is heard that Samsung Display focused on luminous efficiency and improvement in lifespan when it was selecting companies to be part of M11. This indicates that Samsung SDI, Duksan Neolux, and Doosan Solus also satisfied higher standards set by Samsung Display and shows the progress of South Korean technologies on OLED materials.
Besides the three companies, UDC, Dupont, and SFC are also part of the M11 set. UDC is an American company that specializes in OLED materials and has many patents related to phosphorescent dopant while Dupont is a multinational chemical company. SFC is a joint company established by Samsung Display and Hodogaya Chemical. Although South Korean technologies on OLED materials are making a progress, they are somewhat limited when it comes to red and blue materials.
Both Samsung Display and companies related to M11 stated that it is difficult for them to disclose information related to development of new materials and supply and demand between customers.
Staff Reporter Yun, Geonil | benyun@etnews.com
<Source: Etnews>